Amica Home Insurance Review
Based in Rhode Island, Amica started in 1907 as the Automobile Mutual Insurance Company of America. It later added other types of insurance and financial products, including homeowners policies beginning in 1956, and changed its name to Amica Mutual Insurance Company.
Today, Amica comprises three separate companies with 44 offices around the U.S. that sell insurance for autos, homes, life, renters, condos, boats, motorcycles, personal liability, and businesses.
Pros:
Rates are competitive with other companies in our rating
Has a computer coverage add-on
Some policies pay cash dividends
Cons:
Doesn't use independent agents
Not all policies can be quoted online
What Homeowners Insurance Coverage Options Are Available From Amica?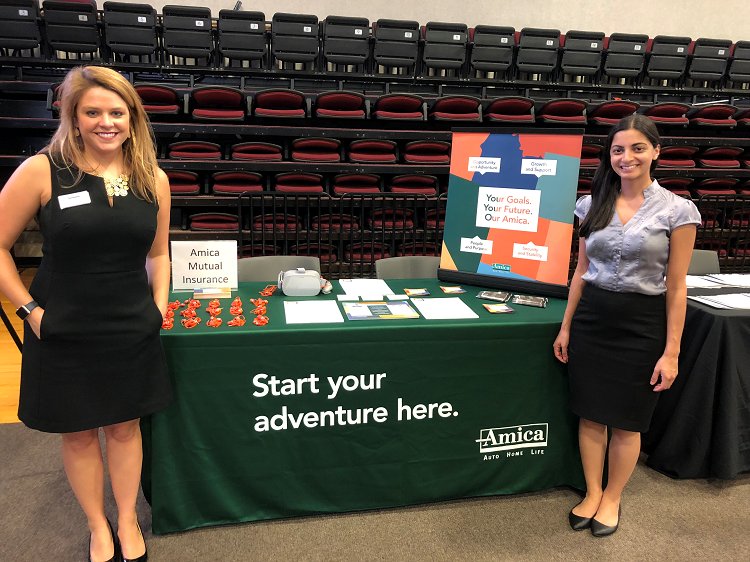 Amica offers a variety of additional coverages. Options include:
Dwelling replacement coverage: This provides 30% more coverage to rebuild or repair your home in the event of a covered loss onto your standard homeowner's insurance coverage.
Personal property replacement coverage: This adds full repair or replacement cost of your personal property, up to the coverage limit of your choice.
Valuable items coverage: This offers expanded coverage on high-values items. Amica provides the example of art, furs, or jewelry as items that could be covered by this policy. This is also known as scheduled personal property coverage.
Home business insurance: Home business insurance provides coverage for equipment, furniture, and supplies used when running a business out of your home. This also includes some liability coverage if you have work-related visitors coming to your home office.
The availability and cost of these options will depend on your specific circumstances. These options can be purchased individually or in a package. Coverage is not available in Alaska or Hawaii. Speak with a representative to determine what's best for your situation.
Where Is Coverage Available From State Farm Homeowners Insurance?
SELECT COMPANYAmicaLemonadeUSAAAllstateState FarmNationwideAmerican FamilyErie InsuranceLiberty MutualChubbProgressiveFarmers InsuranceAvailable
Available in:
Alabama
Arizona
Arkansas
California
Colorado
Connecticut
Delaware
District Of Columbia
Florida
Georgia
Idaho
Illinois
Indiana
Iowa
Kansas
Kentucky
Louisiana
Maine
Maryland
Massachusetts
Michigan
Minnesota
Mississippi
Missouri
Montana
Nebraska
Nevada
New Hampshire
New Jersey
New Mexico
New York
North Carolina
North Dakota
Ohio
Oklahoma
Oregon
Pennsylvania
Rhode Island
South Carolina
South Dakota
Tennessee
Texas
Utah
Vermont
Virginia
Washington
West Virginia
Wisconsin
Wyoming
Cost of Amica auto insurance
Amica offers cheaper than average annual auto insurance rates for full coverage across the nation. While the national average for full coverage auto insurance in the U.S. is $1,674 per year, insured parties under Amica may be able to save.
The average customer under Amica pays $405 for minimum coverage and $1,327 for full coverage annually as shown in the chart below:
| Amica average annual premium for minimum coverage | Amica average annual premium for full coverage |
| --- | --- |
| $405 | $1,327 |
What Homeowners Insurance Discounts Are Offered by Amica?
Amica has three main homeowners insurance discounts:
Alarm system: Installing a fire or burglar alarm or a sprinkler system will get you a discount with Amica.
Automatic detection devices: Amica offers a discount for homes equipped to monitor temperature, gas leaks or water leaks.
New/remodeled home credit: Updating your home with new equipment or appliances could entitle you to reduced rates.
Amica offers the following discounts for all of its customers regardless of what type of insurance they purchase:
Multipolicy discount: Combining your homeowner's policy with auto insurance or other coverage from Amica can entitle you to a discount.
Claim-free discount: Going three years without a claim can get you a discount.
Autopay: Signing up for automatic deductions to pay your bill can save you money.
Loyalty: Customers who have been with an insurance company for at least two years, even if its not Amica, can get a discount.
E-discount: Amica will give you a discount for receiving bills and notifications electronically.
What Additional Homeowners Insurance Coverages Are Offered by Amica?
Amica offers many optional coverages not included in a standard homeowners policy. Talk to a company representative, independent agent, or adjuster to help determine which coverages and amounts are best for you.
Flood insurance: Not included in a standard homeowners policy, flood insurance may be required by your lender or condo association depending on your location. Even if it's not mandatory, it may be worth considering if you live near a lake, river or other body of water.
Earthquake insurance: This will provide coverage if your home is damaged or destroyed in an earthquake. Such coverage is not included in a standard policy.
Identity fraud insurance: This policy offers some financial protection against the immediate effects of having your identity stolen and the expense of fixing the situation. This can include Amica providing access to expert advice as well as helping you file police reports, putting you in contact with credit bureaus, and providing up to $15,000 to cover notary fees, legal expenses, and lost wages.
Amica Platinum Choice is a package of extras not included in a standard homeowners insurance policy. Most Platinum Choice features are also available individually. Platinum Choice includes the following:
Increased dwelling replacement coverage: Includes up to 30% more home replacement coverage than a standard policy.
Personal property replacement coverage: Enables you to choose a higher coverage limit to replace personal property.
Water backup/sump overflow: Guards against water damage from a clogged drain or failed sump pump, neither of which is covered by a standard policy.
Credit card coverage: Provides up to $5,000 to reimburse fraudulent credit card charges.
Computer coverage: Provides broader coverage for electronics against damage from power surges, water damage, and heat warping.
Business property coverage: Offers additional coverage for computers and other equipment used for home offices and businesses.
Valuable items extended coverage: Provides extended coverage limits for jewelry, musical instruments, or other valuables.
Loss assessment plan: Increases coverage for property in shared areas, such as common spaces in a condo complex.
Liability and medical payment coverage: Provides more liability coverage for medical expenses and legal fees.
How Do I Buy Amica Homeowners Insurance
Depending on your location, you can get an online quote or you may need to call Amica for pricing information. Visit Amica's website and enter your zip code to check the availability in your area. Before you call, take the time to estimate the coverage you'll need, a home inventory can help with this. Also, decide whether you will need additional coverages such as earthquake or flood insurance. Once you are ready to get your quote follow these steps:
Gather details about your home.
Have information about your insurance history on hand, including any claims you've made and your current insurance details.
Call Amica or visit its website.
Once you've provided all the necessary information, Amica will give you an online quote or direct you to call for your quote.
How Do I File a Homeowners Insurance Claim with Amica?
You can file a homeowners insurance claim on Amica's website via online chat, the mobile app, or by phone. Follow these steps when filing a claim:
If your claim involves a crime like theft or vandalism, first contact the police and file a police report.
Contact Amica as soon as you can. File your claim either online using the chat function, on the mobile app, or by calling and speaking to a representative.
Document the incident with photos and video where possible.
Repair any damage that could cause more harm to your home and keep receipts for any work.
Amica will assign a claim handler to you and may send an adjuster to view the damage.
Amica vs. Lemonade
Amica is No. 3 in our Best Homeowners Insurance Companies of 2021 ratings, whereas Lemonade takes the top spot. However, if you're looking for a bargain, Amica is also the No. 3 spot in our Cheapest Homeowners Insurance Companies of 2021 ratings, with a price of $123.63 for our sample policy, compared to Lemonade's $165.75. You may not be able to use Lemonade in your area, as it only operates in 23 states (plus Washington, D.C.), whereas Amica is available in every state other than Hawaii and Alaska. Lemonade only sells its policies online or through an app, there are no agents you can call. Conversely, Amica only quotes some of its policies online, for many you will have to call and speak with a representative (this depends on where you live). If you are more comfortable with the traditional model of buying and using homeowners insurance, Amica may be a better fit for you. But if you want to manage your insurance entirely from an app on your phone, Lemonade could be a good option.
Amica vs. USAA
USAA comes in just above Amica in our Best Homeowners Insurance Companies of 2021, taking the No. 3 spot with a score of 4.3 compared to Amica's 4.2 out of 5. USAA beats Amica in availability with coverage in the two states it lacks – Hawaii and Alaska. However, anyone can use Amica, whereas only members of the military, veterans and their families can sign up for USAA. Amica doesn't offer discounts for the military. Identity theft protection and replacement cost coverage are optional with Amica (although they are included in the Platinum Choice plan), while they're included in all USAA policies. Both companies have strong financial ratings.
Amica ratings, reviews, customer satisfaction and complaints
When it comes to ratings and reviews, Amica Insurance Company shines. In 2020, J.D. Power awarded Amica Mutual second place in both their U.S. Auto Claims Satisfaction Study and U.S. Home Insurance Study.
In the auto claims study, which gathered consumer Amica auto insurance reviews, Amica scored a 907 out of 1,000 in overall satisfaction, first notice of loss, estimation of process, claim servicing and settlement. In home insurance, Amica earned a high mark of 853 out of 1,000 for overall satisfaction, policy offerings, billing process and policy information, interaction and claims. Amica was ranked the eighth best mid-size insurance provider in J.D. Power's 2020 Insurance Shopping Study.
Although Amica did not appear on J.D. Power's list of the top life insurance companies, other rating organizations have confirmed that Amica's life insurance policies are top-notch. Consumer Affairs gave Amica life insurance a 4 out of 5 star rating, based on almost 30 reviews. Many customers say they are more than satisfied with the customer service, premiums and claims handling process.
The ability to pay for claims made by customers is of great importance for insurance providers. Amica holds an A+ (superior) rating and stable outlook from AM Best. For over a century, AM Best has provided rating services indicating the financial strength of companies so consumers like you can rest easy knowing that if you invest your money in a product from that company, they are not likely to go under and leave you hanging. With an A+ rating and stable outlook, you can count on your Amica insurance claim being paid out.
| | |
| --- | --- |
| Organization & Rating Type | Amica Rating |
| AM Best | A+ |
| J.D. Power 2020 (Auto) | 907/1,000 |
| J.D. Power 2020 (Home) | 853/1,000 |
| J.D. Power 2019 (Insurance shopping study) | 4 out of 5 |
| J.D. Power 2020 (Insurance Shopping Study) | 861/1,000 |
FAQ
What Does Amica Homeowners Insurance Cover?
A standard homeowners policy covers your home and other structures against fire and weather damage. Standard coverage also includes loss-of-use protection to provide living expenses if your home is uninhabitable after a claim; personal property coverage for furniture, clothing and other possessions in your home; and medical and liability protection.
What Does Amica Homeowners Insurance Not Cover?
A standard homeowners policy doesn't cover earthquakes, floods, identity theft, possessions whose value exceeds certain limits, water backup, or dwelling and personal property replacement. All of these coverages can be purchased at extra cost.
How Much Is Amica Homeowners Insurance?
Amica was mid-pack in our rating at $123.63 a month for a $450,000, 2,400 square foot townhouse in Naperville, Illinois. Your cost will vary, and Amica has a cost estimator tool on its website.
Does Amica Homeowners Insurance Cover Mold?
Mold coverage varies by state and cause and is subject to the limitations of the policy.
Does Amica Homeowners Insurance Cover Water Damage?
Flood insurance is not included in a standard policy, nor is a backup from a clogged drain or failed sump pump. These coverages are optional. Talk to an agent or company representative about the specifics of your situation.
Does Amica Homeowners Insurance Cover Termites?
Termite damage is not covered, as such damage can be caused by a lack of maintenance.
Does Amica Homeowners Insurance Cover Theft?
Coverage against theft is included with a standard policy, but valuables may require additional coverage.
Does Amica Homeowners Insurance Cover Roof Leaks?
If the roof is damaged by a covered weather event, roof repair is covered. Leaks from a lack of maintenance are not.
Does Amica Homeowners Insurance Cover Tree Damage?
Damage caused by trees falling due to wind is covered as part of a standard Amica homeowners policy.
Does Amica Homeowners Insurance Cover Dog Bites?
A minor dog bite to a visitor may be covered by a standard policy, but additional coverage is available and may be a good idea for larger or more aggressive dogs.
Does Amica Homeowners Insurance Cover Personal Injury?
Standard policies include some medical and liability coverage for injuries to guests. Increased levels are optional and may be advisable if you have a pool, trampoline or something else that could increase risk. Talk to a company representative.
Does Amica Homeowners Insurance Cover Fire?
Fire insurance is included as part of a standard policy with Amica.
Does Amica Homeowners Insurance Cover Insect Damage?
Insect damage is typically considered a maintenance issue and is not covered.